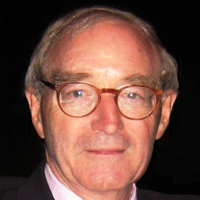 Calvin Frost
Founder and chairman
Calvin Frost, Chairman of Channeled Resources Group, is regarded as the leading international champion of recycling and environmental awareness in the pressure sensitive label industry.

He has devoted most of his working life and career to salvaging waste and turning it into useful and environmentally-friendly materials with an ongoing mission to continue to develop cost-effective and environmentally responsible solutions for the label industry. Calvin started Channeled Resources Group in the 1970's as a traditional recycling company.
By the mid 80's, he had moved the focus into 'processing non-recyclables', working only with coated, treated and laminated papers and films. Today, Channeled Resources Group has a 200,000 square foot state-of-the-art manufacturing facility in Wisconsin and a processing center in Indiana. Now, over 70% of the Channeled business is manufacturing and includes silicone coating and adhesive laminating. CRG also has a silicone coating division in Canada and is headquartered in Chicago.
For the last 10 years the Channeled companies have championed energy as a viable solution for non-recyclables/non-processable substrates. This activity supports 'engineered fuel' manufacturing. The finished product is an alternative to burning fossil fuel such as coal and natural gas. This fuel pellet has equal caloric value to coal with less emission of sulfur, mercury, chlorine and ash and meets state and federal regulations.
Calvin has received countless awards in North America and Internationally for his work to improve the carbon footprint of the label industry. He is Chairman Emeritus of TLMI's Environmental, Health and Safety Committee, as well as Chair of FINAT's Recycling and Sustainability Committee in Europe. Many of you may know him for his regular column, 'Letters from Earth' featured in 'Label and Narrow Web' magazine.
SPEAKER SESSION