27 July 2018
MAAN ENGINEERING LAUNCHES HYBRID COATING TECHNOLOGY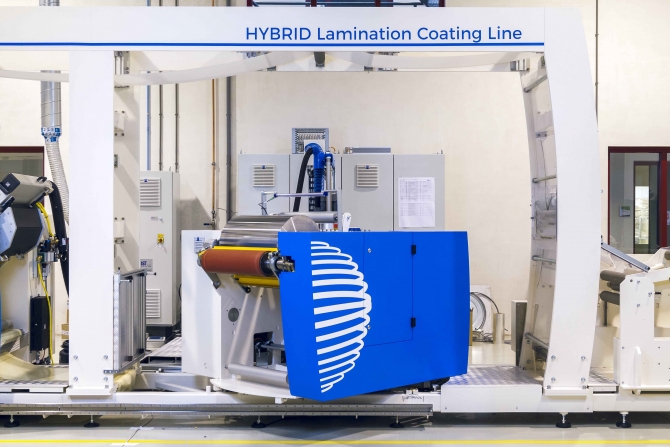 Click on image to download high resolution version
At Labelexpo Chicago 2018, visitors will be able to acquaint themselves for the first time with the new HYBRID technology in Maan Engineering's HYBRID Lamination Coating Line, a coating line that allows you to produce both laminate and linerless labels.
This unique HYBRID coating technology symbolizes the innovative power of the Dutch company Maan Engineering.

Maan Engineering's new technology is used in the Hotmelt Coating Station which, together with the Silicone Coating Station, comprises the core of the Maan coating equipment range. The basis of the HYBRID technology is that, when switching from laminate to linerless, the Hotmelt Coating Station is rotated. In this way, both sides of the paper or foil strip can be coated with hotmelt, meaning that the station can be used not only for laminate, but also for linerless. And the switch takes just 15 minutes!

Using different coating and converting techniques in a single line and applying the adhesive and silicone themselves, printers can make special laminates that distinguish them from their competitors. Besides, research has demonstrated that it is lucrative for producers to produce their own laminate. Furthermore the HYBRID technology makes the relatively small linerless market accessible to every label producer. As a result, the hybrid technology gives label producers a massive competitive lead in the market.