19 July 2018
GEW showcases high-power UV curing systems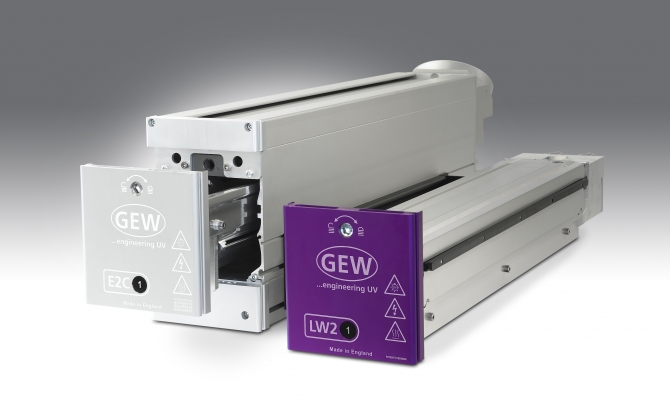 Click on image to download high resolution version
GEW (booths 3500 & 3505) will be showcasing its enhanced range of UV curing systems comprising mercury arc, LED and hybrid systems. Alongside these will be the fully hybrid Rhino ArcLED electronic power supply, which has recently been awarded an ETL Listing for the North American market.
The company will also show its E2C model with Rhino electronic power supply. Safe for the widest range of heat-sensitive materials, with no heat transfer to the machine or substrate at stand-by through the use of actively air-cooled shutter technology, E2C Rhino systems come with the additional benefit of a five-year warranty.
GEW will also display its new multi-point UV monitor (mUVm). This next-generation monitor continuously measures UV intensity across the web, which is vital to avoid the risks and consequences of undercured product reaching the customer. With this system it is now possible to attain 100 per cent UV inspection and to generate a UV curing certificate for every batch, by recording live outputs for every lamp. Furthermore, the new monitor is designed to comply with a broad range of European legislation on food contact packaging.