02 August 2022
GEW Brings LeoLED To Labelexpo Americas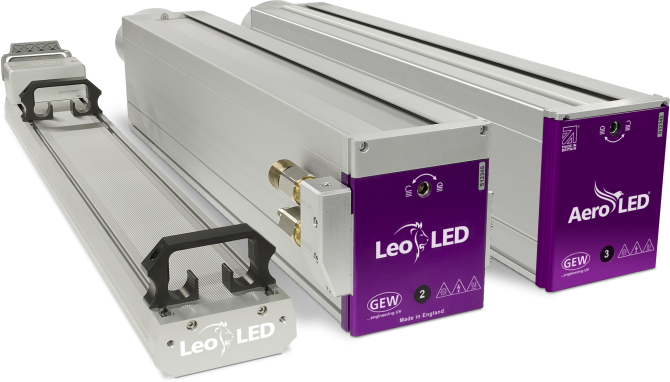 Click on image to download high resolution version
GEW brings its latest UV LED products to Labelexpo Americas. LeoLED, released in 2019, is GEW's water-cooled UV LED offering and is fully compatible with GEW's ArcLED hybrid system. It has a 50mm-wide window to give a long dwell time and is waterproof-sealed for easy cleaning and resilience to dust and ink.
The LED array delivers electrical power of 88W/cm and an intensity of 30W/cm2, with minimal light loss due to the direct UV path.
GEW says LeoLED is suitable for users who want access to UV Arc and UV LED technology, those with more demanding applications, or those who want to print on substrates wider than 600mm.
GEW also highlights AeroLED, a fully air-cooled UV LED system released in 2022. It is a high-power UV LED system for full cure, printing, coating and converting applications up to 600mm wide.
AeroLED delivers power and reliability with a unique concept that eliminates many of the operational problems in existing air-cooled LED systems on the market.
Moreover, the company says the design makes AeroLED cost-effective and step changes the accessibility of LED printing.