23 July 2018
Brotech SDF PLUS Smart Modular Designed Label Converting &Finishing System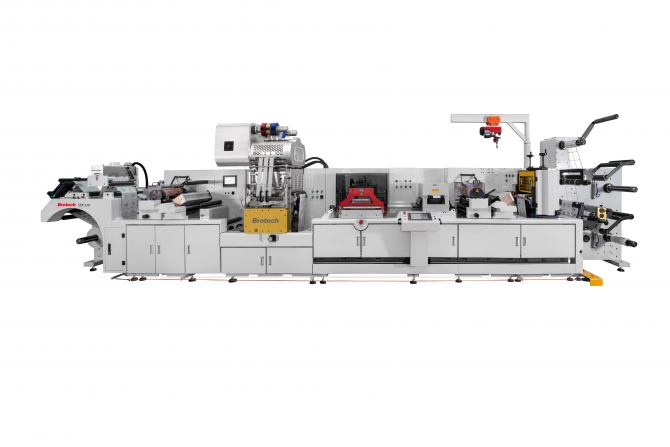 Click on image to download high resolution version
Brotech SDF PLUS Smart Modular Designed Label Converting &Finishing System, is with our own independent research and development, consists of flat bed stamping, flat bed screen printing, flat bed die-cutting, can also be upgraded with semi rotary/full rotary(national invention patent)flexo printing unit, rotary die cutting unit, IML/ sheeting collection unit and other finishing module to achieve digital printed high efficient post-processing jobs. Provide customers with comprehensive, high-quality one-stop label finishing& converting solutions.
Flat bed screen printing module
--High efficiency
1.Servo controlled vertical scraper system, greatly saves the screen scraper effective working hours and improves work efficiency.
2.Extended drying system and high-power UV, can maximize the smooth flow of varnish and ink, maximize the drying speed.
--High flexibility
Modular design, can achieve varnish, ink printing and other purposes. Maximize the flexibility of combined post-processing and the complexity of process requirements.
--Easy operation
Fully servo driven, easy to set up and operate. Pneumatic locking plate apparatus, easiy to replace and adjust.
Flat hot stamping module
-National Invention patents of 90° rotatable hot stamping head
-National Invention patented flat bed pressing technology
-Servo driven control foil saver, upgradable to registered holographic embossing.
-Web and cross web direction hot foil stamping.