23 July 2018
BERHALTER die-cutting where Profitability and Efficiency meet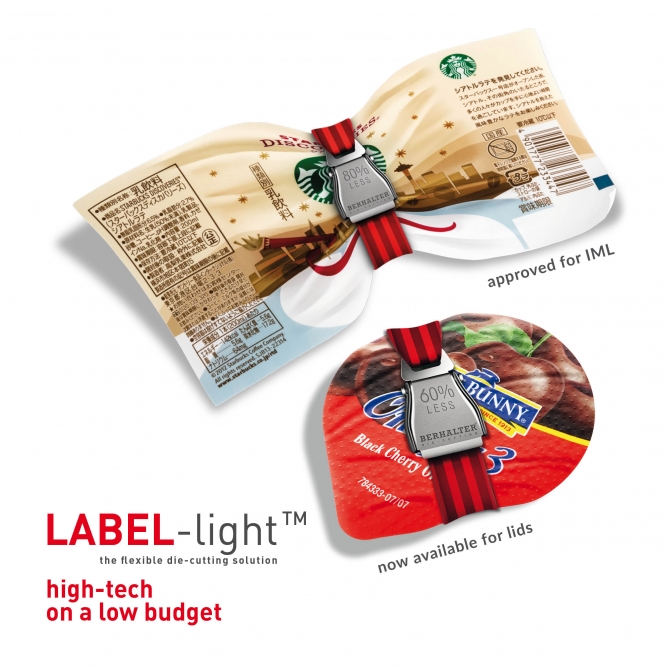 Click on image to download high resolution version
BERHALTER die-cutting where Profitability and Efficiency meet
High-tech die-cutting on a low budget
Berhalter is also presenting a worldwide new die-cutting tool concept for in-mold labels (IML) and polyester labels that offers the advantages of favourable tool cost in combination with short lead times.
The Berhalter LABEL-light™ punching tool is a patented concept combining the improvements of the flat-bed die-cutting such as unique print-to-die registration and perfect handling properties.
The costs for a LABEL-light™ punching tool is up to 70% lower compared to a traditional punching tool even allowing a label contour correction of +/- 0.5 mm.
Further, there is no need for re-grinding a LABEL-light™ tool – the cutting components can be easily exchanged by the operators in order to continue production immediately.
The mark of flexibility
Over the last few years, BERHALTER has reacted continuously and highly flexible to increasing market demands and has introduced a number of innovations to the market. Alongside its capacity for constant innovation, BERHALTER is synonymous with the production of efficient and customer-oriented die-cutting systems. We specialise in the manufacturing of user-friendly but high productive die-cutting machines.
We have the unique possibility to supply die-cutting machines and tools according to the specific market demand.