21 September 2016
Labelexpo Americas scales new heights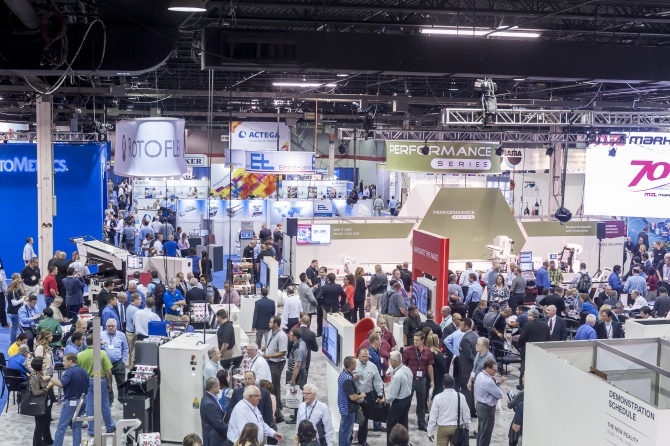 Click on image to download high resolution version
Breaking all previous records, the 15th edition of Labelexpo Americas saw 17,407 label and package printing professionals descend on Rosemont's Donald E. Stephens Convention Center from 13 – 15 September. As well as posting an 8.5% increase in attendee numbers, the show was also the largest in its history with a show floor size of over 201,000 sqft.
Featuring more than 455 exhibitors including over 100 first time exhibitors, the show recorded its highest ever number of product launches. Key press unveilings included BOBST's M6 mid-web inline UV flexo press, the K600i from Domino, the Durst-Omet hybrid system which sees Omet XFlex X6 modules integrated into Durst's Tau 330 UV platform, HP Indigo's 8000, the Digital One from Mark Andy, MPS' latest EF technology, the PANORAMA, FA-4* and the 22" FA-6* flexo press from Nilpeter and the Xeikon CX3 digital press. 
Complementing the vast range of new product announcements, the show floor was also packed with live demonstrations including two new feature areas. With the US annually generating 370,000 tons of liner waste, the Linerless Trail championed ways of improving sustainability and reducing costs and waste with displays by Appvion, Bostik, Evonik, Henkel Corporation, Innovia Films, Maan Engineering, Max International Converters, MPS, NAStar and Ravenwood Packaging. In addition, UPM Raflatac collected the show's excess label, matrix and liner waste so it can be converted into a new form of energy.
The Digital Finishing Experience showcased how to take advantage of short run opportunities in label and packaging personalization, seasonal variations and product fragmentation. Daily presentations were held throughout the show's three day run with live working demonstrations of Delta ModTech's Spectrum Finishing System and folded cartons on the Xeikon FDU. 
The exhibition was also heavily supported by two Label Academy master classes, the inaugural Shrink Sleeve Workshop and a two-day conference program. Covering a broad range of topics and technologies, conference sessions were well attended including the CEO panel discussion. Presided over by Georges Gravanis of Avery Dennison, it covered the key issues facing the North American market and featured John Attayek of Inovar Packaging Group, John M. Cappy from the Outlook Group, Fortis Solutions Group's John Wynne, Mark Glendenning of Inland and Charlie MacLean of ASL Print FX. 
The all-female converter panel discussion on day two was extremely well received with inspiring, frank and candid contributions from Tara Halpin of Steinhauser, Alpine Packaging's Jan Lehigh, Sandy Petersen of Digital Label Solutions, AWT's Michelle Zeller and the Label Printers' Lori Campbell. Other highlights included a look at new printing techniques to revolutionize design and branding, The Internet of Things and using highly functional smart labels and packaging to leverage consumer engagement.
Tasha Ventimiglia, Labelexpo Americas event director said: "The label and package printing industry is really galvanized at the moment and we saw that very clearly at Labelexpo Americas with a record number of product launches being unveiled on the show floor. Package printing is coming of age as is digital printing technology and this year's show had a real buzz around shrink sleeve production and applications. Converters are upping their game all the time with significant investment in their product offering and a constant honing of their commercial capabilities, so Labelexpo really offers them the best place to catch up with all the latest techniques, solutions and trends. The show has yet again been a massive success and the continued rise in attendee numbers and positive feedback are testament to Labelexpo Americas' quality and variety."
Quotes from exhibitors and speakers:
Mike Atkins, National Sales Manager, Afinia Label: "Afinia Label exhibited at Labelexpo Americas, for the fourth time in as many years, due to the sheer number of qualified label professionals. We always have a large presence at Labelexpo and make a new product introduction each time. The 2016 edition of Labelexpo Americas was no exception, as Afinia Label formally introduced our new, entry-level L301 Label Printer, to a large amount of interest. Afinia Label already has the most complete label printing, finishing, and application product line in the word and with the announcement of the L301 Label Printer, we've added to a product line that already spans the widest investment range."
Mike Hetrick, Vice President and General Manager, Tag Solution Services, Alien Technology: "Labelexpo Americas 2016 was a success for Alien Technology with Alien providing the lead presentation at the IoT breakthrough solutions driving innovation round table. Our group was well attended with over 60 engaging participates asking questions on the IoT market, go-to-market strategies, product offerings, and how to engage in the emerging IoT world. We had a great turnout of RFID partners at the event and it was great to see old friends and key partners at the event." 
Darren Headland, Vice President of Sales, Arconvert U.S: "Labelexpo Americas was the perfect setting for Arconvert to reinforce our presence in North America, and we experienced a consistent flow of visitors who showed a keen interest in what we offer. This interest was more than curiosity about a new player to the market. Attendees recognized Arconvert as a provider of unique opportunities with an extensive range of pressure sensitive label stocks they can't find anywhere else."
Al Waller, Componex: "Componex, engineers of WINertia Idler Rolls, boasts that Labelexpo Americas 2016 was the best show ever! The eye-catching WINertia Woman, dressed in a silver bodysuit, physically demonstrated the company's ability to deliver rolls within five days or less, from order placement to delivery. The booth received a large volume of traffic also due to president Cal Couillard's roll demo machine, which visually offered a side-by-side comparison of smooth and spiral groove rolls versus WINertia AV (air vent) technology, a roll with constant traction up to 3400 feet per minute. The company also showed its WINtrac 4 coating for adhesive-release, on which labels do not stick to the surface. The company is very pleased with the amount of in-booth traffic, as it received more than 150 fresh leads. Fantastic show!  
Sandy Petersen, Co-Founder and Owner, Digital Label Solutions, Inc: "Participating on the converter panel at Labelexpo Americas and discussing new opportunities in the label market was truly exhilarating. While there is no doubt the label industry is on the rise, I was especially encouraged by how many converters are seeking to become better and smarter!"
Theron E Johnson, President, DIP Company: "DIP Company has been exhibiting at Labelexpo for over 20 years and we had a very productive Labelexpo Americas 2016. We networked with others in the industry to catch up on trends and events. We gathered many new leads. We met with many of our over 1,000 customers and established some new working relationships with other vendors. Overall, the money spent to exhibit was well worth it."
Michael Panzeri, VP of DPR Labeling LLC: "We are always pleased with the outcome of the Labelexpo Americas show. With the increase in attendees and expansion of the show over the years, it has continued to be a huge success for our team. We used Labelexpo as the platform to launch our newest digital finishing systems, the Gemini and Taurus, and were delighted with the response we got from the attendees. We look forward to the show in Brussels one year from now."
Florian Kössler, Sales Assistant, Durst: "In addition to our existing customers a  lot of new customers came on to our stand, particularly from Latin America, which is an important and growing market for us. We had a high level of interest and are confident of closing at least a couple of deals in the next two weeks. What was probably the highlight of our exhibition was that our customers are now opening up a whole new range of possibilities by investing to the Durst Tau 330 E UV Inkjet Label Press. And new potential customers who came on to our stand usually came back because they had further questions to ask and were excited by the opportunities. So yes, Labelexpo Americas was a huge success for Durst. We announced important steps forward in the capabilities of our label product portfolio. These involve integrating our market leading Tau 330 with near-line pre- and post-press finishing solutions in cooperation with OMET and we also used Labelexpo to demonstrate our own production workflow software, designed specifically for the label print production providers."
Corinne Schmid, Marketing Manager, ebeam Technologies: "We chose Labelexpo Americas to introduce our breakthrough technology, the EID (ebeam Inkjet Dryer) to the US market because we knew we would reach label manufacturers grappling with the challenges of digital print, environmental sustainability, food safety, and quality. We were not wrong. Visitors were interested in how EID can help them dispel fears of photoinitiator migration, the opportunities of heat-free curing on heat-sensitive substrates, and the production efficiencies of eliminating wait time before cutting or slitting labels. The key takeaway for me was how much trouble delegates were having printing on aluminum - the superior scratch resistance of ebeam curing turned a lot more heads than we expected! Labelexpo is a great platform for active dialogue and education, and it allowed ebeam Technologies and its partners to demonstrate to the right people how the new ebeam technologies can help them adapt to future challenges."
Rich Cohen, President, Elevate Packaging and Pure Labels: "Labelexpo Americas was the ideal place to announce our innovative eco-friendly line of compostable adhesives labels. The response and interest in Pure Labels (tm) was astounding!"
Jerry Leonards, Converting Division Manager (Paper, Film, and Foil), Erhardt-Leimer Inc: "Labelexpo Americas was a great opportunity to showcase our new SMARTSCAN 100% inspection system. The customers in the label industry are exactly who this product was made for. This event allowed everyone to come up and try the demo in person and see the benefits for themselves." 
Larry Moore, Vice President – Partner Programs, Esko North America: "Esko had an exceptional Labelexpo Americas this year. Attendees are always very serious about investing in new solutions. They really wanted to learn how Esko's many innovations this year could help them with their business challenges. Label converters and tradeshops need to cope with escalating demand to process short run jobs faster, while ensuring quality and regulatory compliance—and controlling cost of operations. Along with X-Rite, who offered very powerful color management solutions, Esko presented a range of compelling ways to overcome these prepress and production challenges. Most important are the many levels of process automation, whereby prepress workflows can be integrated with business systems and our plate making and finishing hardware devices. These sometimes-simple solutions offer visibility over the entire process and enable great efficiency. The customer interest and feedback at Labelexpo taught us that the market is very serious about looking into these solutions today."
Mike Ferrari, Founder and President, Ferrari Innovative Solutions: "Labelexpo Americas 2016 made a statement regarding the industry transformation to digital print. In fact there were several exhibits and new launches of digital decoration and finishing. This is exciting as this is the emergence of a new platform, 'the all-digital automated workflow'. Delegates attending the conferences were asking great questions as they try to sort out the many choices of digital technologies presented at Labelexpo. Exciting times are certainly ahead as labels and packaging provide solutions to the new challenges brands face."
Andy Cook, Managing Director, FFEI: "Labelexpo Americas 2016 was another great show for us. We kept the live demo of our inkjet Hybrid press, Graphium, running virtually non-stop. Along with the many high quality leads, we were very pleased to see a good mix of both international and North American prospects throughout the three busy days."
Tom Hammer, Director, Product Portfolio Packaging & Narrow Web, Flint Group Narrow Web North America: "Thank you for inviting Flint Group to Labelexpo Americas to share technical know-how to interested converters who are considering entering into the shrink sleeve market. There is a learning curve that needs to be gone through and accessing supplier partners who have expertise in this arena is a great start to minimize the time, effort and cost to enter a new, exciting and fast growth market."
Dave Maucieri, Senior Vice President of Sales, GPA: "Labelexpo Americas provided an outstanding platform for Arconvert and GPA colleagues to unite and connect with the community. Together, we shared the expansion of Arconvert's label products in the United States that have been extremely well received in other parts of the world. Arconvert's value-added range of self-adhesive label materials will provide the North American digital and flexographic print communities with the perfect opportunity to differentiate themselves with label applications for the consumer space."
Steve Powers, director, HP Indigo Labels & Packaging, North America: "HP's fastest-growing graphics segment is labels and packaging, and Labelexpo Americas 2016 allowed us to demonstrate how our complete end-to-end solutions are driving a digital labels and packaging revolution and reinventing how converters engage brands. More than 200 press demonstrations for worldwide customers took place at the show, and the HP team closed many deals for the now commercially available HP Indigo 8000 as well as the HP Indigo 20000, 30000 and WS6800 digital presses. Today's presses are purchased for tomorrow's jobs, and the thousands of visitors to the HP booth were excited and energized by the limitless application possibilities enabled by the new portfolio as well as the HP Indigo Digital Combination Press, HP Indigo Pack Ready Technology and HP PrintOS."
Laura Kitzmann, Business Development Manager, Industrial Inkjet Ltd's (IIJ): "Labelexpo Americas 2016 was a good show for us. The majority of the companies we met were potential customers. A high percentage of visitors were seeking mono solutions using variable data with the cost-effective answers provided by IIJ. We also received positive feedback to the Konica Minolta printheads, which have a reputation for being robust and can last for years. The variety of inks that can be used from a variety of suppliers is a real positive to our solutions. These include UV cured, UV low migration, aqueous and security inks. All in all, an extremely worthwhile show to attend."
Mark Glendenning, CEO, Inland: "As a leader, it's always good to contemplate the questions brought up at our session at Labelexpo Americas. To get to hear from other leaders on those questions who have been very successful in our industry (and other industries as well) was invaluable for me. Thanks for including me."
John Attayek, CEO, Inovar Packaging Group: "As usual, Labelexpo Americas 2016 delivered an excellent program to the label industry. The conference sessions provided perspective on the state of our business, on every front, and the networking opportunities were tremendous across the entire supply chain."
Rick Clendenning, President and CEO, INX International Ink Co: "Labelexpo Americas is one of my favorite trade shows. I'm glad that every two years, thousands of people who attend this event visit an area that is nearby to our corporate office and R&D facility." 
Juliane Engelbrecht, Marketing Manager, ISRA VISION: "ISRA VISION would like to thank all of our customers and visitors for a successful Labelexpo Americas 2016. With the Americas release of our new All-In-One, Plug and Inspect NarrowSTAR inspection system and highest resolution in industry inline loupe ViewSTAR; ISRA VISION is ready to fulfil all of your needs. We are now focused to aggressively move forward our industry leading experience, technology and knowledge into the label, narrow web and sheet fed printing and converting industries."
George Pinter, Partner, Klear Plastic Ventures: "Labelexpo Americas 2016 provided an opportunity for Klear Plastic Ventures (KPV) to introduce PET heat shrinkable film for sleeve labels with up to 30% PCR (post consumer recycled) content. This product, produced from recycled PET bottles, has a smaller CO2 emissions footprint than 100% virgin content film. It is made possible by raw material direct to film production technology. This process also produces a high quality PET film at a very competitive cost. PCR content PET heat shrinkable film generated a lot of interest with the label converters and brand owners that visited the KPV booth.  Labelexpo was the perfect forum to showcase this new product." 
David Morris, President, Kocher + Beck USA L.P: "Kocher + Beck experienced a very successful Labelexpo Americas 2016, with a high level of attendees visiting our booth and interest generated during the show. The level of quality conversations and connections made with both existing and new customers were significant, and the number of leads generated finished 12% higher than in 2014." 
Michele R. Laird-Williams, Americas, Customer Marketing Manager Flexographic Packaging Solutions, Kodak: "Kodak showcased the latest evolution of Kodak's fully-integrated digital flexo plate-making solution KODAK FLEXCEL NX System '16 powered by the NX Advantage, including new Advanced DIGICAP NX Patterning and patented Advanced Edge Definition technologies. The FLEXCEL NX System '16 addresses a series of pain points for label printers in today's print ecosystem. Labelexpo Americas 2016 was an overwhelming success and booth traffic increased 30% compared to 2014. Year over year, Labelexpo Americas attendance continues to grow and attendees arrive eager to learn about new label and packaging solutions. Attendees who visited Kodak were able to see first-hand the full breadth of the Kodak Packaging portfolio and wide range of label and packaging print applications utilizing flexo, digital inkjet, letterpress and packaging workflow solutions."
David Pung, VP, LasX Industries, Inc: "At this year's Labelexpo Americas, LasX Industries had the unique opportunity to feature four of our LaserSharp® digital laser converting machines in four of our business partners' booths. Attendees were able to see our MATRIX roll-to-roll laser converting machine featured in the Aztech Technologies booth, a laser finishing system developed by LasX and CEI for Screen, and an in-line laser converting module in a Colordyne print system. We also featured a newly-designed table-top laser converting machine for Sohn Manufacturing that drew a lot of attention from attendees. Custom laser converting machines are a large part of our overall business and Labelexpo is an important marketing channel for LasX to reach potential customers. When they see first-hand what laser converting can do, it often answers an immediate production need and/or triggers innovative ideas for lowering production costs." 
Natália Lopes, Marketing & Sales, Lemorau: "Labelexpo Americas 2016 was a big success for Lemorau. During the three day event we had many visitors from many different countries, which generated a good number of leads. We also had a good number of distributor agreements to represent Lemorau in North, Central and South America. Lemorau machines were really popular and people were interested in what our company have to offer, specially in our capability to customize the machines to meet their needs. We are glad to say that all our machines at the show were sold and we are excited with our first imprint in the United States of America. Lemorau's future is promising."
Brittany Franzen, Marketing Communications Administrator, Mactac: "Mactac had another successful year at Labelexpo Americas. The attendees showed a great amount of interest and excitement for our new MACjet products, Static Cling and our 'cool' preview to our new Chill AT adhesive. Teaming up with more industry partners such as Konica Minolta, Primera, INX International, Omet, Xeikon, DNP Imagingcomm America, Mark Andy and ITW Thermal Films helped showcase more of our materials throughout the show floor.  And as always, Labelexpo is the perfect place for our notorious booth cocktail party. We'll see you in 2018!" 
Bill Magee, Vice President, Printing & Packaging Group, Michelman: "This was Michelman's first time exhibiting at Labelexpo Americas. After a great show at Labelexpo Europe in 2015, we knew that the audience was right for us in Chicago. We were able to focus on our new product introductions in UV OPVs and inkjet primers along with our established and expanding line of HP Indigo primers.  Our OEMs were there for collaboration and our customers where present to learn about our offerings.  Great show!"
Kees Nijenhuis, Vice President, MPS Systems North America: "MPS Systems North America is proud to announce that records have been broken at Labelexpo Americas 2016: a record number of visitors at the MPS booth as well as record North American sales at the show. At Labelexpo, MPS introduced together with EMT the Chameleon RobustCut side load die station. Also, MPS started a partnership with Kodak which resulted in three live press demonstrations at the MPS booth, pushing the limits of flexo. The interest has been overwhelmingly positive. MPS demonstrated its flagship flexo press: the EF. The EF automated multi substrate press was built in MPS' North American facility in Green Bay (WI). MPS invested heavily in a North American organization including local assembly, sales, marketing and customer service. After starting a local organization, MPS grew significantly in the North American market in the past years."
Paul Teachout, VP of Sales & Marketing, Nilpeter USA Inc: "We found the level of attendance made in-depth customer interaction possible, and had many interested and relevant - mainly North and South American - visitors stop by our booth. Many expressed an upturn in the business, which bodes well for the coming year. Our intentions this year at Labelexpo Americas were to make a statement, and we did just that. Not only did we bring the next generation of dynamic packaging solutions, but we also presented them in a brand new and inviting booth design. The sophistication of our equipment matched that of our booth, and both were very well received. We think it was very clear what our position is, and how we expect to deliver the solutions for the next generation. Our objectives were met and our team and products executed our vision. We could not be more pleased." 
Michael J Brenner, President, NPPS Inc: "We enjoyed a wonderfully successful show. We had great floor traffic. Over 100 people stopped by to tell us about their hiring needs. Hiring is a strong indicator of the health of the industry and we can report that the industry is very strong and that everyone is now competing for experienced talent and there is not enough to go around. Thank you Labelexpo for allowing us to celebrate our 25th year of recruiting for the industry with another great show."
Claudio Semenza, Sales Director, OMET Americas Inc: "We are always glad to be part of Labelexpo Americas. As each and every year, the 2016 edition was a great success and a good opportunity to express our commitment to the US market. Our booth attendees and loyal customers proved once again their interest for our brand product selection. Beyond the high-end machines that make OMET well known on worldwide market, such as the Varyflex and the XFlex X6 (on demo at Labelexpo), the general appreciation of our innovative new machine, the iFLEX, was a good launching point for the developing activity of our Demo Center in Elk Grove Village, Illinois. Our intent is to strengthen OMET's presence across the US territory, by providing our clients an even closer, attentive, and timely pre- and post-sales service experience. The new Demo Center is an easily reachable location for the Americas to have an up-close, individual and customized experience."
Gerry Stanford, Sales and Marketing Manager, PC Industries: "Labelexpo Americas 2016 has proven again to be a successful event for PC Industries! As always, it was a great opportunity to connect with new and existing customers, offering them hands-on experience with our newest technologies. Additionally, it was an excellent chance to observe some of the newest industry trends. Having a venue like Labelexpo Americas where we can meet face to face with customers in a professional environment has allowed us to discuss and understand their specific needs while showcasing our wide range of print inspection solutions. This led to us receiving multiple orders at the show for PC Industries' Guardian PQV 100% Print Defect Detection System and the Graphic-Vision® GV-Spectro In-Line Color Measurement System. We are excited that our customers will bring their print quality control and business to new heights thanks to this year's Labelexpo. We were pleased to see such keen interest in our technology and look forward to similar success at Labelexpo Europe 2017!"
Jim Clemente, President and CEO, Polyonics: "Polyonics recorded its strongest results in the past 10 years at the recent Labelexpo Americas both in terms of new business and new relationships. Polyonics was one of the few manufacturers at the event who specializes in label and tag materials for high temperatures and harsh environments. Its durable materials attracted a high number of qualified global customers from the major industries, including electronics, metal processing and automotive, all attending the event with strong buying interests. Visitors included an especially large contingent of Latin American converters, distributors and manufacturers each armed with multiple high-tech applications well geared to Polyonics' innovative products. This portends a strong level of tag and label business from this important manufacturing region and a direct reaction to our new Latin American support organization."
Chiara Prati, Sales & Marketing Manager, Prati: "Digital printing takes us into a new realm of finishing where quality is high, so accuracy has to be excellent. Mass production is being replaced by short customized finishing requirements, so frequent job changeovers can slow down production due to all the time lost between jobs. These considerations made us investigate opportunities to ensure top quality finishing and enhance productivity in order to make digital production profitable and enable converters to respond positively to the evolving market scenario. The result which visitors to Labelexpo Americas nicely discovered is called DIGIFAST ONE, our top digital finishing platform."
Ron Donovan, Plate Sales Manager, North America, Presstek: "Labelexpo Americas has been a great show for Presstek! We were very pleased to partner with Codimag for this important event, introducing to the label market our new alternative waterless CTP plate and equipment solutions. We've experienced an extremely positive response to our eco-friendly print portfolio, specifically to our chemistry-free waterless Zahara plates that we demonstrated live at the show. As well as engaging with existing Presstek customers, Labelexpo provided an ideal platform to reach new prospects and demonstrate how Zahara waterless plates and printing with Codimag's Viva340 evolution waterless offset press can really compete with flexo printing across quality, turnaround time and pricing. Exhibiting at the show has reaffirmed Presstek's commitment to provide eco-friendly print products that deliver speed, quality, versatility and simplicity, and we're already excited to see what Labelexpo Europe 2017 will bring."
Craig Du Mez, Brand Manager, QuadTech: "Labelexpo Americas afforded QuadTech a great opportunity to introduce two new color management technologies that were not previously available to the market. We experienced very high interest and extremely positive response to our ColorTrack and DeltaCam, generating leads from all over the world. Labelexpo gave us an excellent platform to show the industry how we can simplify the color quality workflow and provide fast, accurate press-side correction of ink formulations."
William Longua, Senior Director Digital Print Group, Rena: "This was the first time we exhibited at Labelexpo Americas and it was a great decision. Our Mach X inkjet label printer got terrific exposure to new users and markets. We look forward to the revenue this show will generate for our company." 
Tony Heinl, President, Repacorp, Inc.: "I was very happy with the amount of traffic in our booth and the interest in our shrink sleeves and our new UL Stock and UL Custom Stock Label Program. As a first time exhibitor, Labelexpo Americas exceeded our expectations." 
Tracey Harmon, Marketing Project Manager, RotoMetrics: "RotoMetrics, the world leader in precision rotary tooling, visited with over 1,000 customers during 2016 Labelexpo Americas. Our customers got to learn about the enhanced performance of our AccuSeries flexible dies, the improved dimensional stability of our magnetic cylinders, our new pressure sensitive material movement solutions and our expanded service offerings. Our synchronized team of experts were able to help new and existing customers unlock the power of precision to help their business excel."  
Scott Ryback, President of R&R Inc: "Ryback and Ryback Incorporated (R&R Inc.) released its new universal seaming adhesive for the shrink sleeve market. This revolutionary new product is changing the way shrink sleeve manufacturers get product seamed. R&R Inc. has partnered with Fujifilm to develop the Universal Seaming Adhesive (USA) and will be the exclusive distributor of the product throughout the world. This release gave Ryback and Ryback one of its best tradeshows ever with 300 leads and eight total sales at Labelexpo Americas which is a record for our company. And the orders are continuing to roll in since close of the show." 
Dave Snyder, Siemens PLM: "Labelexpo Americas 2016 was an outstanding event that allowed us to showcase our unique planning, scheduling, and estimating systems to a broad range of printers and converters. Labelexpo is a cornerstone in our plans to raise awareness of Simatic IT Preactor and LSI Print Control products."  
Schelly Walls, Director of Sales, Spinnaker: "Labelexpo Americas is a great opportunity to visit with customers and potential customers in an environment that always sparks effective conversations. The 2016 show did not disappoint, as we had consistent traffic at our booth throughout the event." 
Nanette Thomas, Synthogra: "Labelexpo Americas was very beneficial for us! On the first day alone, we took more than 100 new leads, and the strong interest from the narrow web market continued throughout the expo. We met many interested customers from the US, South America and Canada, who showed great excitement for the possibilities in short run flexible packaging – a business area we supply with unique synthetic papers and flexible films, and help further develop with our material selection and customisation expertise. Building on the show activity, we look forward to engaging in new, exciting partnerships – helping printers and brand owners get from idea to shelf, streamlining the printing and converting process, and increasing both shelf life and shelf appeal of end products." 
Marko Arola, CEO, Tempix AB: "I was very pleased to have the opportunity to speak at Labelexpo Americas 2016. I got many questions and found the American listeners very interested about our awarded and patented technology for securing the cold chains on any products. We had many visitors to our exhibition booth which we had together with WRH Global Americas. We got a bunch of leads and have now started to both contact and analyze their requirements."
Susan Moore, Vice-President of Sales, Tharstern USA: "Labelexpo Americas was as great show for us. There was worldwide attendance, we got leads for US, Canada and Australia. There were plenty of prospects interested in our product from South America and the Middle East. The Tharstern brand is reaching out further than ever before. At the show we connected with many presidents, CEOs and CFOs – meeting topline executives is key to our visibility and the ability to get into the MIS conversation. We did a number of demonstrations and have good sales leads going forward. Many of the other prospects said they were looking to change their MIS in the near future. Labelexpo had a dominating theme throughout the exhibits: technology. It is clear that technology is changing the label market and digital presses for the label market are penetrating those companies that are used to being all flexo. This is all good for Tharstern because we can bring those technologies together under one MIS and promote efficiencies in the day-to-day workflow while providing the business intelligence." 
Ryan Houle, Business Development Manager, UL LLC: "After a four year absence, UL had its best Labelexpo Americas yet. This expo provided UL the opportunity to share with the industry our newest offerings of Automotive Label Testing and Marine Use Labels (BS 5609) Certification.  The ability to share and discuss these new offerings as well as our certification services and training opportunities in person with so many attendees, allowed us to exceed our show objectives as well as deepen our relationship with many clients."
Michael Simonis, President, Unilux: "Labelexpo Americas continues to be a draw for the companies that we want to talk to. This year's show was instrumental in launching our new LED inspection strobes for UV-visible coatings and inks, and of optical brighteners in varnishes. Attendees are always looking for the latest advancements in the label printing industry. Because of this there was a lot of interest in our new brighter, more intense handheld inspection strobe, the LED-9. Labelexpo 2016 was a huge success for us, with a near record number of leads and several sales over the three days." 
Marcela Gasanz, Marketing Director, UniNet: "Labelexpo Americas 2016 served as the ideal platform for successfully showcasing UniNet iColor printing solutions product line, including our new equipment releases geared to the on-demand label production, custom label finishing and textile transfer markets. Revealing UniNet's technologies included the iColor® 600 short to mid- run portable digital color tabloid transfer printer, the LF 700 and 900 digital label finishers featuring standard and wide format accordingly generated huge interest amongst label printers. UniNet also displayed the flagship iColor® 700 and 900 digital presses which are also available for the global market. This show provided a great opportunity to meet new, possible future clients and prospects from all across the world who visited our stand to learn more about our innovative technologies. UniNet certainly achieved the goal of increasing awareness of its product offerings in the label printing industry and we are certainly looking forward to Labelexpo Europe 2017."
Mike Weinhold, Senior Vice-President of Sales, Marketing and Product Development, Verso: "Labelexpo Americas 2016 was three days of non-stop excitement and activity. The flow of attendees through the exhibit hall was constant, and our ability to engage these individuals and share the Verso Specialty Papers story made this event extremely beneficial for us. There is no better place to launch a new product, and we took advantage of this by launching Verso's CraftPoint™ label papers, a family of premium pressure-sensitive and cut-and-stack beverage label papers designed to make craft beers, spirits and wines stand out on the shelf or in the cooler. Labelexpo Americas is the show to attend to learn about the latest advances in key and emerging technologies as well as industry trends, changes and developments."
Dr Andre Gysbers, Marketing Director, Wink: "We are very satisfied with this year's show, as the number of qualified leads from North and South America exceeded our expectations by far. General attendance and visitor feedback have shown us that we are on track, and Labelexpo Americas gives us great support for continuing our growth strategy for the Americas. Most visitors were particularly interested in our adjustable anvil roller GapControl®, which allows for maximum variability in die-cutting and is very helpful when converting downgauged liners. Our range of SuperCut 'Special' flexible dies also gained much interest; especially our long-life MCR coating was highly appreciated as solution for die-cutting abrasive materials in very long runs."   
Filip Weymans, VP Marketing, Xeikon: "Xeikon remains a fan of the Labelexpo platform as an important forum to show and teach the label printing market how digital print is opening up new possibilities for label converters. The Americas edition brings in a great variety of visitors out of North and Latin America. When talking to them we learn a lot on how they are trying to get their heads around digital printing. Being part of Flint Group now, Xeikon had a strong presence and generated a lot of interest."
Becci Leathery, Marketing Coordinator, Yazoo Mills, Inc.: "Labelexpo Americas is always a huge success for Yazoo Mills and has been for many years. We enjoy being able to meet with our current customers as well as educate potential customers on the superior quality paper cores manufactured in our state-of-the-art facilities. We had a lot of interest in our Stock Core program, which is the largest in the industry with 108 sizes of paper cores in-stock and ready to ship at all times, guaranteed. Yazoo looks forward to connecting and creating a business relationship with all of the attendees that stopped by our booth."
Bill Hewitt, Marketing Manager, YUPO US Labelexpo Americas 2016 exceeded our expectations and previous years events. We collected many valuable leads from all over the world and received great comments and interest from our visitors, especially our recent launch of our patented YUPO® Sculpt technology."
Anais Rath, Marketing, Zecher GmbH: "We presented our anilox roller solutions at this year's Labelexpo Americas for the first time. This trade fair gave us an extraordinary opportunity to introduce ourselves to the North American market and touch base with future customers. As a company operating on an international scale, we were extremely pleased not only to welcome US-customers at our booth but also many more from Latin America, especially Mexico. Working side-by-side with our new US sales partner Dansen Prepress Corporation, we had the chance to talk to many leaders in the printing industry, and discuss how Zecher can support them with future opportunities. Labelexpo Americas has fully met our expectations and we are already looking forward to the next edition!"